STUDENT SUCCESS STORIES
Your story is unique. That's why we work closely with you to understand your particular interests, needs, and aspirations. Read on for stories of real students who know this first-hand, and get inspired to create your own student success story! Click here to connect with a Student Success Coach.
---
Vy Ho, Social Work
By Pisti Gamvroulas (Fall 2018)
Vy Ho is a senior honors student studying Social Work. Vy cares deeply about human connection and the wellbeing of others. After spending her first two years of college bouncing around exploring majors, she decided that Social Work was the best choice for her as it would allow for a life of meaningful work.
Vy heard about Student Success Coaches during orientation and thought that it could be a good way to start building a support system. Of the many resources she learned about, SSAs stood out. She noticed that the model for most resources included making appointments, a limited number of sessions, and different offices for everything. "It seemed really impersonal to me," she thought. With an SSA, she could talk with someone about whatever was going on and form a meaningful connection. So Vy looked at the SSA bios on the website, noticed that she and Lisa Lewis shared similar views and ideas, and decided to reach out.
Vy explains that Lisa has had a tremendous impact on her over the years. So much more than connecting with campus resources, working with Lisa has given her a sense of belonging on campus. "Lisa and I connect on a personal level," Vy confides. She continues, "Knowing that there is someone on this campus that is looking out for us, advocating for us, and that they will sit and listen to our thoughts, no matter what category they fall in—academic, personal, social, etc.—is what makes SSAs so valuable. "This university can feel isolating and make you feel alone," notes Vy, "but [SSAs] give a personal touch to this campus; they become one of your friends."
Vy is getting close to graduation. She says that she is learning to be okay with not knowing exactly what her future holds. When asked what advice she would like to give students, she offers, "Be kind to yourself, believe in yourself, and understand your worth. Know that you deserve good things, and advocate for yourself!"
---
Ashkan Fakhrtabatabaie, Music Composition (www.ashkanfakhr.com)
By Halah Khan (Spring 2018)
Ashkan Fakhrtabatabaie is studying Music Composition. He has a passion for music and spends most of his time composing music and studying or teaching music theory and technology. Ashkan has been able to thrive as a composer in part by utilizing his background in engineering. He enjoys thinking in an interdisciplinary way, making connections, creating bridges between realms. Since coming to the University of Utah, he has written a handful of pieces and had the fortune of having his music and scholarly works published or performed at a number of music festivals, including last summer at the New York City Electroacoustic Music Festival (NYCEMF) and this year at the Missouri Experimental Sonic Arts Festival (MOXsonic).
Ashkan describes having grown immensely from his work with professors here at the U. In fact it was one of his professors in the School of Music who advised him to reach out to Student Success Coach Lisa Lewis for help looking for a summer job utilizing his expertise in music composition. Ashkan had no idea if such jobs even existed or what to do to find one.
Once Lisa understood Ashkan's interest, she and a colleague in the Union Administrative Office began brainstorming possible job opportunities with the Union over the summer. It turned out that the Union actually needed the services of a multi-media producer and hired Ashkan to compile digital images and make music for videos. The job gave Ashkan a great opportunity to apply his knowledge of art and technology in a commercial way. In his words, "Most of the time in art school, projects are just for the sake of art, but this job required me to apply my skills and talent to a real life project."
If Ashkan were to give advice to other students, he would tell them, "Don't be hesitant about acknowledging the skills you have. Maybe you will be able to find something that you will be good at and even create a job position that benefits both you and your employer!"
---
Samantha Mold, Psychology and Sociology majors with Criminology emphasis
By Halah Khan (Fall 2017)
Sa
mantha Mold is a senior about to graduate this December with majors in Psychology and Sociology with a Criminology emphasis. As a result of internships and other experiences these last three years, she has decided she wants to work in the Crimes against Children Unit with Federal Law Enforcement. Her favorite TV crime show is Criminal Minds.
Samantha reached out to Student Success Coach Tramaine Jones when she was looking for help with the application process for an internship with the FBI. She had learned about Student Success Coaches in her role as peer advisor for the Living Learning Leap. After exploring meeting times on the website, she chose Tramaine who had an open slot that fit well with her schedule and booked the appointment. It turned out to be an excellent match. Working with Tramaine, Samantha developed a compelling application and achieved her goal of an FBI internship in Hawaii. Upon graduation, she will begin a job with federal law enforcement.
Even though Samantha is very accomplished academically and professionally she continues to meet with Tramaine because, as she puts it, "It gives me an advocate on campus, someone I can bounce ideas off of." Samantha and Tramaine have worked together to formulate goals for each upcoming semester, keeping her on track to graduate. Samantha is very thankful for Tramaine. She explains that he has helped her to break out of her shell, expand her concern beyond classes and grades, and become more involved with events around campus. When asked what she has learned about herself, she replied that she is continuously learning about herself and how to use both her strengths and weaknesses in life.
If Samantha could give a piece advice to other students she would say, "The most important thing you can learn in life is how to love yourself. No one ever teaches you how to love yourself, and you cannot fulfill your passions and desires unless you are able to love yourself and be true to who you are."
---
Chaise Edebiri, Sociology major with Criminology emphasis
By Sydney Magana (Fall 2017)
Chaise Edebiri is a junior majoring in Sociology with an emphasis in Criminology. It's a good choice for her because she enjoys learning about large systems that influence an individual's everyday life. Initially, Chaise was on a path to a career in law. Then she realized a career in higher education was an option. Chaise considers herself a life-long learner and when she discovered the world of student affairs knew it would be a perfect fit with her strengths and passions.
Chaise met Student Success Coach Wazir Jefferson at an HRE Social Justice event. When asked what she has worked on with Wazir, she immediately announced, "Everything. My whole life." She identifies her biggest accomplishment, however, as getting her priorities together. As someone who is passionate about a variety of things, Chaise struggled with finding a balance. "Wazir helps me evaluate things and determine what I may need in the long run and what things I can sacrifice," she explains. "He gives me an outside perspective on things that I really care about which has helped me keep my sanity and not try to do it all at once."
One of the most important things Chaise has learned is how to ask for help. "Learning to have that courage, letting my pride down a bit, and asking for help is okay," she admits. "The worst thing someone can say is 'no'. I wouldn't have what I have now if I didn't ask for help." Working with Wazir has also helped Chaise not feel so alone on campus: "I know a lot of people, but that doesn't mean I don't feel lonely. As my journey keeps narrowing and coming to an end, it's kind of scary—the future is scary. Working with an SSA has allowed me to feel that things are more attainable because I know that I have someone on my team watching out for me and cheering me on."
Chaise's advice reflects her experience, "Students should meet with an SSA because they genuinely root for you, no matter what stage of your journey you are in. In Wazir's words, they 'meet you where you are at': physically, mentally, and emotionally."
---
Dominique Pablito, Biomedical Engineering and Chemistry majors, Pediatric Clinical Research minor
By Sydney Magana (Spring 2017)
Do
minique Pablito's goal is to attend medical school, either at the U or UCLA. Fluent in three languages (Navajo, Zuni, and English), she graduated high school at 14 having grown up on different Indian reservations around the country. Dominique is currently a junior pursuing a double major in Biomedical Engineering and Chemistry with a Pediatric Clinical Research minor. She plans to add additional minors in Math and Spanish.
Dominique transferred from Dixie State in fall 2015 and met Student Success Coach Jon Bernal that semester. "When I first started here, I just signed up for everything," she says, "and I probably signed up and received an email asking if I would like to meet and talk." Although they met in person initially, ever since, she explains, all of their communication has been by email because it can be hard to find time to meet given her academic demands and work schedule.
Dominique has worked with Jon on a variety of things, but she considers scholarships to be the most important. Working with Jon made Dominique's transition to the U a lot easier: "When I started at the U, I didn't have any money for college and almost took out a loan—I'm completely against loans, so it was a big deal for me. Also, I'm too young to get a loan and would have to do it through my mom. Jon saved me a lot of stress and time by helping me find scholarships, get situated, and get used to the U."
Dominique is a proud recipient of several scholarships this year including the Larry H. Miller Scholarship, the Alumni Scholarship, and various Native American scholarships. "If I told Jon I wanted to do something," she says, "he helped me do it."
Dominique's advice to students is simple: "Apply for scholarships, and don't be afraid of a 'no'.
---
Maxwell Ayeliya, Accounting major
By Sydney Magana (Fall 2016)
Maxwell Ayeliya is a junior studying Accounting who's passionate about business: "I want to help people, not to just gain money, but to also help their families. Where I come from, it is a poor community, and the best way is not to rely on the government but to find ways to help each other out in order to live a good life." Originally from Ghana, Maxwell moved to Utah in 2013. Before transferring to the U in 2015, he received an Associate degree from Salt Lake Community College.
Maxwell found his way to Student Success Coach Bianca Bellot by visiting our website. After reading the SSA bios, he decided that she would be the best fit for him and made an appointment. "Before meeting with Bianca," Maxwell explains, "I was stressed because I didn't get the grades I was expecting and felt like I didn't have anyone I could connect with. When I met with Bianca and told her this, she actually helped me and provided me with resources….She was amazing…she changed everything for me."
Maxwell explains that Bianca has helped him improve his academic performance, find and apply for multiple scholarships, and feel more connected to campus. He tells of how she urged him to step out of his comfort zone and reach out to his professors. Although Maxwell was nervous at first, when he talked to his professors he found that they were very welcoming. In fact, as his fear of approaching his professors decreased, his grades increased! When asked what he has learned about himself, he said, "I have learned that I don't have to be shy. If you want to present yourself to the world, you have to be open. You have to have confidence in yourself."
Maxwell explains, "Though the resources at the U may seem like they are hiding, they aren't hiding. We just don't want to open ourselves up to those resources." Maxwell's advice? "Everyone is happy to help, but students need to reach out and take advantage—we shouldn't be scared."
---
Husna Adan, International Studies major, Nutrition minor
By Sydney Magana (Fall 2016)
Husna Adan is a senior majoring in International Studies with a Global Health emphasis and minoring in Nutrition. She is passionate about dedicating her life's work to others, especially helping to increase the quality of life of those around her. One of Husna's dreams is to travel to and help the East African community where her family originated. Her involvement with University Neighborhood Partners, a youth leadership program, demonstrates her commitment to helping others. In high school, Husna experienced the benefits of this program and now serves as a mentor to current high school students.
In the spring of Husna's first year at the U, Student Success Coach Christine Contestable introduced herself in the Union. Husna emphasizes the importance of Christine's timing, "She came up to me and started talking about the initiative. At that time I was very lost and didn't know what I was doing, especially being the first female in my family to attend college. I was just clueless about how the university works, so I was very interested in what she had to offer." Since their initial meeting, Christine has helped Husna improve her stress management and goal setting skills. Last spring, Husna achieved one of her goals, serving as an intern in the governor's office. It was an extraordinary opportunity to gain first-hand experience of the legislative process. Husna explains, "This University is really big and can sometimes feel isolating. Working with Christine has helped me navigate the university and find the different resources the campus has to offer." Husna is grateful for the support Christine has provided and, working with her, has learned more about herself, especially her persistence.
Husna is on schedule to graduate in May 2017. Her advice to other students? "The most important thing is to find something you're passionate about and do that; it's a lot easier doing something you love!"
---
Andrew Tsai, Computer Science major
By Sydney Magana (Summer 2016)
Andrew Tsai is a non-traditional, transfer student pursuing a major in Computer Science. Before transferring to the U to complete a Bachelor degree, Andrew studied at UC Santa Cruz and received an Associate degree from Snow College. Andrew connected with a Student Success Coach through our Student Success Outreach Ambassadors while eating breakfast at the Union. After learning what we do and signing up on a clipboard, he received a text from Student Success Coach Tramaine Jones to set up their first meeting. According to Andrew, they now meet bi-weekly.
During his first semester at the U, Andrew was worried about being admitted to the Computer Science major. It was the GPA requirement that concerned him. Tramaine recommended the concept of studying for an hour and then taking a break rather than sitting and cramming. Andrew explains that "the idea of 'if I do this for a little bit, I will get a break' is motivating." With course work beginning to get heavier, Andrew is still working on his time management skills but has improved. Since transferring to the U and working with Tramaine, Andrew made the Dean's List for the first time, was admitted to his major, and has found an academic pace that works for him. Inspired by his work with an SSA, he decided to apply to serve as a Student Success Outreach Ambassador and, happily, was chosen to be part of the team for the coming academic year!
As a transfer student, Andrew has learned that friends are really important and have played a key role in his success at the U:
"I have these two friends that I met last semester and honestly, besides Tramaine, they played a very big role in how I did last semester. We would encourage each other and do our work together even though we weren't in the same major. I think coming from when I started freshman year in 2011 to now, the most important thing that I have learned is to find good friends to be successful with."
Andrew's advice to other students: "Get lots of sleep. You can push yourself a little bit if you have stuff to catch up on, but you definitely need sleep and want to get the full 8 to 9 hours a night."
---
Sarah Dupaix, International Studies major, French minor
By Sydney Magana (Spring 2016)
Sarah Dupaix is a non-traditional transfer student soon to graduate with an International Studies major and French minor. Last summer Sarah spent six weeks in France fulfilling the Study Abroad requirement for her major. It was something she'd wanted to do for a long time and what drew her to International Studies. It was also something that stressed her out.
Thankfully, Sarah met Student Success Coach Stephanie Santarosa at transfer orientation. "I always do everything by myself," she remembers, "but I realized I was out of my depth and told myself it couldn't hurt. At our first meeting, I asked a million questions, and she provided answers or told me where to go for each."
Stephanie helped Sarah work through her fear and anxiety about arranging a Study Abroad and supported her when she felt overwhelmed. Last fall, for example, Sarah was running late for a final, stuck in a snowstorm. "I probably hadn't talked to Stephanie in six months, but I called her up and was like 'what do I do?' It was just one of those times when I didn't know who to call and that's who I thought to call." In the end, Sarah made it to her final!
Sarah has accomplished a lot and is very happy to be finishing school. "Before coming to the U," she explains, "I was afraid to do anything. I had a lot of fear and I just couldn't talk to anyone. I was lucky that I let Stephanie talk to me because she ended up being that one person in my corner. The thing that has really allowed me to embrace not being a hermit was working with my SSA—I felt like I was part of something and doing something that connected me to college life."
Sarah encourages even independent students to make use of campus resources. While she doesn't readily seek help from others, she admits that these resources and her SSA have been instrumental in her ability to complete her degree. And to non-traditional students, Sarah is adamant, "You can still come back to school; there's always that possibility—it's never gone or never too late!"
---
Kaden Colton, Environmental and Sustainability Studies major, Atmospheric Science minor
By Sydney Magana (Spring 2016)
Kaden Colton is a senior majoring in Environmental and Sustainability Studies with a minor in Atmospheric Science. He always knew that he wanted to pursue a science major and was intrigued by the issue of sustainability.
Kaden met Student Success Coach Jon Bernal through one of the resource centers in the Union. Working with Jon has helped Kaden find campus programs that he didn't know existed. For example, Jon connected Kaden with the Office of Undergraduate Research and helped him to identify research opportunities on campus. Last summer Kaden was introduced to his first research experience during an internship in New Zealand. He now works with two professors studying how weather impacts the size and spread of a fire. "I had a summer job in 2013 working at the National Forest Service during the time of big fires in Utah," Kaden explains. "Over that summer, a bunch of the people I worked with would go out and fight the fires, and that experience sparked my interest."
This summer Kaden will present his research at a national conference, and it will be published in an academic journal. He has learned that he is passionate about doing fire research and thankful for the opportunity. He points to Jon's support as instrumental both in helping him to get involved in research and in gaining funding through the Undergraduate Research Opportunities Program (UROP).
Kaden also worked with Jon on graduate school applications, including crafting personal statements, essays, and his research intent. Looking forward to graduating in May, he has applied to several graduate programs (his first choice is the University of Canterbury in New Zealand) and is applying for a Fulbright, as well.
Kaden offers this advice to students: "Don't let challenges hold you back. I didn't know about the Student Success Coaches before Jon introduced himself, and I would definitely recommend that more people get into contact with them because they know a bunch of resources on campus that can help students succeed."
Update
Congratulations to Kaden who was accepted into the Master of Science program in Geography at the University of Canterbury in New Zealand. He plans to begin classes in spring of 2017 and may try to transfer to the Ph.D. program after his first year. All good wishes, Kaden!
---
YoungJae Shin, pre-Bioengineering major, German minor
By Sydney Magana (Spring 2016)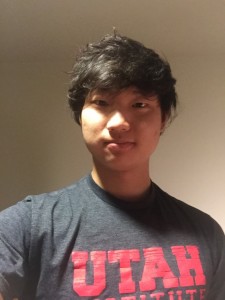 YoungJae Shin is a sophomore completing prerequisites for the Bioengineering major and pursuing a minor in German. On graduating from high school in Provo, he returned to South Korea to fulfill his two-year military service duty. His interest in the German language and culture then led him on a six-month odyssey in Germany.
YoungJae initially planned a pre-med track when he arrived at the U. After realizing how much schooling and money was involved, he decided that his priority was to graduate and get a good job as soon as possible, as he didn't want to rely on his parent's financial support for too long. YoungJae's desire to put his math and science skills to good use and to help others led him to the Bioengineering major.
A friend recommended that YoungJae connect with Student Success Coach Stephanie Santarosa and, since, they have worked together on time management and on prioritizing extracurriculars and course work. Stephanie also directed him to Learning Abroad and the Hinckley Institute to explore his interest in returning to Germany to master the German language. YoungJae learned about the Office of Undergraduate Research from Stephanie, as well, and is now volunteering in a lab. He plans to apply for a UROP assistantship at the end of the semester. "I didn't notice how much there was on campus to be a part of," says YoungJae. "If there was something I wanted to do, I was given information from one source, my SSA."
YoungJae always considered himself an introvert. Since coming to the U, however, he has noticed that he is very busy and interactive. "As an international student," he explains, "it's hard to talk to others. I realized that if I wanted to do something and become something, I have to interact with people and make myself vulnerable and be brave."
YoungJae shares the following advice: "You have to know what you want to do. Always set goals first and then act. As you take initiative and begin to pursue your goals, it gets easier."
---
Elizabeth Gamarra, Social Work major with Advanced Substance Use Disorder Counselor certification
By Sydney Magana (Fall 2015)
Elizabeth Gamarra's experience of college is unique. She completed her Associate Degree when she was 16 and was accepted to the U's Bachelor of Social Work program at 17. She is currently preparing for graduation at 18 with plans to apply to the U's Master of Social Work program.
Migrating to the U. S. was a difficult process for Elizabeth and her family. Speaking no English, she witnessed her parent's resiliency and passion as they sought the best for her and for her siblings. Their understanding of the importance of higher education is what motivated her to take advantage of concurrent enrollment, which opened doors to her accelerated path. When people told Elizabeth that she was taking her education too fast and that it wasn't necessary, her answer was always, "Why not go fast if those are the opportunities that are in store for me?"
Elizabeth connected with Student Success Coach Wazir Jefferson during her first year at the U. In their first meeting, she learned about his research and his experience navigating resources and spaces in higher education. After sharing her story with him, Elizabeth says, "Not only was Wazir validating, but he has not treated me differently, which has been very important given my unique educational background."
Wazir introduced Elizabeth to the McNair Scholars program and, thanks to his support through the application process, she is happy to share that she is now a McNair scholar. Being a McNair Scholar allows Elizabeth the opportunity to interact with other high-achieving students. Wazir also helped Elizabeth to connect with the U's Office for Equity and Diversity and Women's Resource Center.
"College was often described to me as very hard," Elizabeth explains, "and I often found myself challenged by stereotypes and stigma, even within my Hispanic-Latino community." One of her favorite quotes expresses a driving force behind her pursuit of higher education: "I can't afford the luxury of being close-minded." Her advice to students is something that she learned from her mother: "Ask questions. It's better to stay ignorant for five minutes than to stay ignorant for the rest of your life."
---
Courtney Zaffino, Health Promotion and Education major
By Dontrell Morrow (Fall 2015)
Courtney Zaffino is a first-generation student in her junior year studying Health Promotion and Education. She met Student Success Coach Stephanie Santarosa when she introduced herself in Courtney's Global Citizenship BlockU early in her first semester at the U. Courtney knew immediately that she'd found her mentor. "Steph made me feel unstoppable as if I could cure cancer," says Courtney. She continues, "Steph really helped to keep me grounded and sane my first year. Coming into college was a little scary because I had no idea of what it'd be like. I was one fish in a giant sea, and Steph really helped to make me feel like I wasn't alone during this crazy journey."
Since meeting Steph, Courtney has become more involved with campus life. She works on campus, has had a great experience as a UFit volunteer—which helped her discover her love for working with children with disabilities—and is involved with filming PAC 12 sporting events. "Steph encouraged me to get out of my comfort zone," Courtney explains. "When I opened myself up to opportunities I found programs that I fell in love with."
Steph also played a role in reassuring Courtney that it was okay to change her mind about her major. When Courtney entered the U, she planned a pre-med track. She thought this made sense given her interest in helping people. Soon, however, she began to see that it was not the best fit for her. She didn't love the prospect of all those science classes and realized that she needs more hand-on experience and people interaction. Steph helped Courtney choose a major which she loves and in which she has excelled.
Courtney's advice to students: "Never deprive yourself of any opportunity and enjoy yourself during your experience at the U. Some of your best decisions will be some of the most unexpected. Keep all your options open, and never be close-minded during your years at the U. Anything is possible!"
---
Ian Lehman, Pre-Electrical Engineering major
(Fall 2015)
Ian Lehmann is a sophomore completing prerequisites in order to declare the Electrical Engineering major. He's currently considering both the Environmental Studies minor and Entrepreneurship Certificate program, as well. His goal is to work in the field of renewable energy, specifically by starting a renewable energy company.
Ian met Student Success Coach Wazir Jefferson at Plazafest his first month at the U. Wazir helped him draft emails concerning student government and offered both professional and personal advice, including counsel regarding his interest in research. In general, Ian has experienced Wazir as an example to emulate and a friend he's blessed to have.
Ian has served as a member of ASUU's Sustainability Committee, joined the Institute of Electrical and Electronics Engineers, and has settled into a steady routine at the U. Participating in research in the area of renewables is an important goal for him, and he is currently exploring research opportunities.
"I've learned that I'm far more socially conscious than I realized," Ian says, "and at the same time, recognize that I can continue to become much more aware." Ian is certain that he's a more successful student thanks to Wazir whose advice, he explains, has helped him better navigate the educational system. "Just knowing that I have a meeting with him later in the week makes me want to work harder and do better," Ian insists. "I have no doubt that I will remain friends with Wazir for the rest of my life, and that he will continue to impact me for the better, the way he already has."
Ian's advice to students is simple, "Get an SSA!"
---
Jelani Taylor, Sociology and Human Development and Family Studies majors
By Sydney Magana (Summer 2015)
Jelani Taylor is a graduating senior majoring in Sociology and Human Development and Family Studies. She is interested in studying population dynamics, especially within families. After graduating, Jelani will begin the Master of Education program at Westminster College.
When Student Success Coach Nedra Hotchkins introduced herself and offered to assist with anything, Jelani's response was, "I really thought she was kidding. But she would text me and email information about events. She offered to help connect me with different people." Jelani's goal was to make connections and be more active on campus. She reveals the biggest accomplishment Nedra helped with: "She's the reason I applied to graduate school."
Jelani also confided in Nedra about her struggle as a student of color at the U. Nedra gave Jelani advice and introduced her to students who shared these feelings. "In a way, Nedra really brought us together so we could support each other," she admits. "Through Nedra, I found my voice. She helped me to be more confident and embrace the fact that I am African-American."
Jelani admires the unique approach of SSEI. She explains that at such a big school, it is hard to find people like Nedra, "but SSAs are out in the campus meeting students. It's amazing. I never would've met Nedra otherwise." Jelani's advice is, "Connect with an SSA. They come to you, and that's what works about it. Without Nedra, I wouldn't have applied to graduate school. I wouldn't have come to campus as often. Even though she is not physically here with me, because of her, I feel more confident being here."
---
Haoran Yu , Communications major, Drawing minor
By Sydney Magana (Spring 2015)


Haoran Yu is a transfer student from China, pursuing a major in Communication and a minor in Drawing. Before coming to the U, Haoran attended university in China where he studied Electrical Engineering. After his first semester here, he realized that he did not want to be an engineer. It was Haoran's first roommate who taught him about following his heart. Haoran's roommate played baseball for the U. Every night, after returning from practice or class, he would play his guitar. As Haoran compared his own schedule to his roommate's, it reminded him how important it is to do the things you love and enjoy.
A friend referred Haoran to Student Success Coach Christine Contestable. Their earliest conversations were about adding a minor, as Haoran was deeply interested in developing his talent for drawing. Later conversations turned to the question of changing majors. This was bigger. After consulting his parents and more conversation with Christine, Haoran realized how much he enjoyed wedding and event planning. He had experience with these in both China and Salt Lake City. When Christine suggested he look into the Communication major, it just made sense.
As Haoran looks back on his experience at the U, his main accomplishment was discerning the goal that would guide him. The moment he chose his own path and did not follow what his parents or family wanted, Haoran learned to be himself. He says, "Christine has provided consistent support for me. She is the one who has been on my side since day one, giving me the support to help me choose to follow what I wanted."
Haoran offers this advice: "Follow your heart and do the things you want to do and that you are really good at. In most cultures, families try to make many decisions for you, but those decisions may not be the ones you would make for yourself." As a student who changed majors his junior year, he emphasizes, "Know who you are and accept it. Never cover yourself up; if that is who you are, that is who you are!"
---
Yajaira Peralta, Medical Laboratory Science major, Pre-Med
By Sydney Magana (Spring 2015)
Yajaira Peralta is a sophomore with a passion for science. She is in the process of completing prerequisite courses in order to apply to the Medical Laboratory Science major and is currently on a pre-med track.
Before entering college, Yajaira studied French for seven years. She plans to declare the French minor. Yajaira first met Student Success Coach Jen Molloy the summer of her first year at the U. She remembers sitting outside when Jen walked up and introduced herself. At the time, Yajaira was frustrated about not knowing what major to declare. "It felt like my world was falling apart," she shares, "because I'm the kind of person who knows what I'm doing." Yajaira worked with Jen to choose a major, get more involved, and find a good balance.
Since meeting Jen, Yajaira joined and is now editor of a student-led social justice newspaper called Venceremos, and she has found many service activities through the Bennion Center, including her favorite, cleaning up Red Butte Gardens. Meeting Jen has made Yajaira's college experience a lot easier. "I felt really lonely when I came here at first," she confided. "Having a Student Success Coach is like having a friend or counselor you can always talk to. Jen just made me feel welcomed." Yajaira's advice to other students is to "use and take advantage of all the resources that are available to you. Time Management and balance is everything. It's important to make sure you take care of yourself."
---
Hillary Finch, International Studies and Health Promotion and Education majors
By Sydney Magana (Fall 2014)
Hillary Finch is a senior who will graduate this spring with a double major in International Studies (Global Health emphasis) and Health Promotion and Education (Community Health emphasis). Hillary has always been interested in health, initially majoring in Biology. Her ultimate goal is to become a Physician Assistant. During her sophomore year, Hillary participated in the Semester at Sea program, traveling to 14 different countries. Among her favorites were Portugal, South Africa, Brazil, and Ghana. Studying abroad sparked Hillary's interest in International Studies and led her to her current majors. The semester she returned from her study abroad, Hillary met Student Success Coach Christine Contestable. They made an immediate connection. Christine has supported Hillary with useful resources, advice, and in goal setting.
She admits, "Christine has been my motivator. She reassured me that the things I've done are really positive and not just resume builders." Hillary has learned to be more confident and that "everybody has strengths that they may not realize. Christine helped me find those strengths within me and use them to my advantage." Working with Christine has also helped Hillary feel more connected to the university. "It totally changed what I'd seen or experienced previously. Nobody had ever walked up to me on campus before and asked, 'Hey, what are you up to?'" Hillary's advice to students is, "Use every resource possible because the things we have at the U are amazing! Take every opportunity possible. It goes by fast!"
---
Gina Sombatsaphay, Finance major
By Sydney Magana (Fall 2014)
Gina Sombatsaphy is a sophomore who plans to major in Finance and minor in Political Science. She first began her love affair with business in high school, joining clubs and participating in competitions through FBLA (Future Business Leaders of America). Upon entering the U, Gina was admitted to the Business Scholars Program which provided an opportunity to travel abroad and meet students who share her passion.
Gina met Student Success Coach Stephanie Santarosa at orientation and later received an email from her. At the time, she was living off-campus and struggling with the transition to college. "The first semester was really hard," she confided. "You feel so insignificant at such a big school without knowing anyone." Gina knew she needed to reach out and talk to someone rather than stay depressed in silence. "I thought maybe it would be nice to vent to someone for once," she explained, "instead of keeping it all inside. So I emailed her."
Stephanie helped Gina smooth out the transition by planning a well-rounded college experience focused on Gina's goals and interests. She provided resources that led to a summer internship with Enterprise and turned into a part-time job. While working with Stephanie, Gina has gained confidence and realized, "We're so similar. She keeps me sane. It's nice to have someone to talk to about whatever is going on." "Reach out to an SSA," Gina advises, "because you're not obliged to meet with them. It can be once-a-month or whenever you're feeling stressed out. But they're always there."
---
Caleb Webb, Physics major
By Sydney Magana (Fall 2014)
Caleb Webb is a sophomore who recently declared a major in Physics and is planning to add the Math and Astronomy majors, as well. While a triple major may sound overwhelming, Caleb says he would like to pursue all three as they complement each other conceptually and the coursework overlaps. These majors combine his interest in universal theory and discovery with his strong math and computation skills. Although a major in Astronomy is not currently available, Caleb heard that it might be coming. If it does not get approved, he says he will absolutely pursue the minor.
Caleb had no idea what he wanted to do as a freshman but knew that he really enjoyed learning. He attended a Major Exploration event his first semester where he met Stephanie Santarosa, a Student Success Coach. Stephanie emailed him with her contact information, and Caleb took initiative to respond seeking help declaring a major. Since then, he has been in contact with her a number of times with questions or to seek her counsel.
Caleb has learned that he is a lot more motivated than he thought he was and that having an SSA to contact is a good idea because "they are there when you need someone to fall back on." If Caleb could pass along a piece of advice it would be to "try and get your priorities straight and learn something that you are interested in and not something that is just going to get you a great job, because sometimes it's more about the journey than the destination."
---
Michael Worthen, Finance and Mathematics majors
By Sydney Magana (Fall 2014)
Michael Worthen is a sophomore pursuing a double major in Finance and Math with an emphasis in Statistics. After exploring the programs the U has to offer, he was drawn to the collaborative environment of the School of Business, which led him to choose Finance.
After a Student Success Coach spoke in one of his classes, Michael visited the website to make an appointment with Bryce Williams. He hoped to work on improving his grades and study habits. Michael admits, "Coming into college for my first semester, I thought I knew how to study. But I found out I was wrong." Bryce advised Michael to prioritize and to focus on narrowing his volunteering and leadership to specific things that interested him.
Michael met frequently with Bryce to continue to check in and stay motivated. "Having that push every week or every other week is very beneficial," he says. "With Bryce, the best part is being able not only to talk about school but to talk on a personal level. He actually wants to get to know you, and that's what I love." With the help of Bryce, Michael has improved his study skills and time management. "I got a planner because of him," he explains. Michael offers this advice to other students: "Try not to do everything at once. Schedule it correctly. You don't want to get overwhelmed. Put school first, and GET A PLANNER!"
---
Colby Townsend, Comparative Literary and Cultural Studies and Religious Studies majors
By Michael Bird (Summer 2014)
Colby Townsend is a senior pursuing majors in Honors Comparative Literary and Cultural Studies and Religious Studies. Colby has a remarkable love and passion for the history and interpretation of scripture. He wants to study the composition of the Pentateuch, the first five books of the Hebrew Bible. Colby explains that there is so much someone can learn by studying the historical context in which the Pentateuch was written and by studying it in original Hebrew.
Student Success Coach Stephanie Santarosa introduced herself to Colby last spring. During their conversation, Colby shared with her some of his interests, including his interest in getting involved in research. Stephanie informed him of the Undergraduate Research Opportunities Program (UROP), and Colby immediately got involved. He now works closely with Nathan Devir, professor in the Department of Languages and Literature. This opportunity has led to some amazing experiences, including receiving special research grants and attending some prestigious conferences.
Colby couldn't be more grateful for his experience working with a Student Success Coach and believes it has made his experience at the U of U one that he will remember forever. If there is any advice that Colby could give to students it would be to "Listen and ask as many questions of these advocates as you can. They will help you take your interests to the next level."
---
Jazmin Martinez, Studio Art major (Painting & Drawing)
By Yvette Toribio (Spring 2014)
Jazmin Martinez is a sophomore with a passion for art. She is majoring in art with an emphasis in painting and drawing and minoring in Spanish. Jazmin has always enjoyed art and excelled in it. In middle school, her art teachers were impressed with her work and motivated her to pursue an art degree. Jazmin is also interested in sculpture and exploring the possibility of medical school.
Jazmin met Student Success Coach Christine Contestable when Christine introduced herself at the Union. Realizing that Jazmin had various interests, Christine offered the idea that she design her own unique road-map to graduation and to track her extracurricular activities in a journal. Jazmin's road-map consists of various colors that represent her well-rounded degree along with credits and grades. Most importantly, Christine helped Jazmin to "stay on top of everything" through organization and time management. Throughout this process, Jazmin has become a more organized leader. She has coordinated several events for various student organizations, including a fundraiser for MEChA and a blood drive for a service project. Jazmin holds leadership positions in the student groups MECha and "Benefit El Salvador".
With the help of a Student Success Coach, Jazmin has been able to accomplish so much in a single semester. Jazmin's advice to students is, "Don't bite off more than what you can chew. It is important to be involved in extracurricular activities, but don't overwhelm yourself or get caught up in procrastination. Stay organized." She also recommends that undeclared students explore their interests and pursue what they love.
---
Patrick Muvunyi, Biochemistry major
By Yvette Toribio (Spring 2014)
Patrick Muvunyi is a freshman studying Biochemistry at the University of Utah. He picked this major because he loves science, understands it well, and despite his young age, has engaged in research with various doctors since his junior year of high school. Having these experiences has strongly defined his career path into Biochemistry.
Patrick met Stephanie Santarosa, a Student Success Coach, through a friend's referral. During summer orientation, Patrick heard about the Student Success Coaches, but it was not until he got a referral that he decided to check in with one.
As a freshman, Patrick struggled to choose his classes. He felt largely unprepared to write college papers and, with a new transition, he wanted to incorporate some fun into his busy academic schedule. Stephanie helped Patrick in making choices regarding his classes. She referred him to websites that pertained to his needs; helped him to enroll in writing courses that would improve his professional writing skills, and recommended recreation activities such as river rafting that fulfilled his interests.
Patrick felt like Stephanie was a true friend. She had extensive knowledge of the resources in and out of the U. It became refreshing for him to talk to someone. Everyone is so busy that it is difficult to step back and talk about these daily concerns. He now knows who he can reach out to who is willing to listen. Through this experience, Patrick has learned that little things can impact you immensely in the long run.
Patrick says, "Student Success Coaches rock! Period." He recommends that students get the help they deserve. "Student Success Coaches are trying to assist you. You are not always perfect, and a Student Success Coach looks forward to getting to know you and helping you succeed."
---
Arielle DeJesus, Metallurgical Engineering major
By Yvette Toribio (Spring 2014)
Arielle DeJesus is a freshman studying Metallurgical Engineering. She chose this field because she was interested in something that combined her favorite subjects: math and science. Her connection with a Student Success Coach has been, like many, through a simple conversation about her goals.
Last fall, Arielle began her first semester at the U with 16 credits. She felt overwhelmed with managing her time and getting accustomed to the University. With the help of her Student Success Coach, Bryce, and her commitment to do better in school, she managed to organize her time better, become more involved in opportunities of interest, and raise her GPA.
Through this experience, Arielle has learned that, although the University can be overwhelming and intimidating, there are unlimited resources and opportunities that welcome you to campus and enhance your college experience.
Working with a Student Success Coach has helped Arielle to feel more confident and open to opportunities. In her words, "I wouldn't have found the resources I've found if it wasn't for Bryce." She recommends that students proactively seek out someone that wants you to succeed and take advantage of the plentiful opportunities available to students.